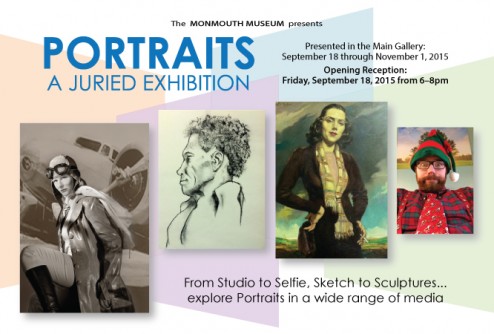 Opening this Friday, September 18, from 6 to 8pm, the Monmouth Museum Portraits exhibit will include two of my "Selfie" series portrait paintings. Part of the series of 99 in process paintings, these two clearly illustrate my concerns with the complex issues and perceptual anxiety represented by the ongoing stream of selfies being taken worldwide. Never before in history have so many people had the ability to visually document themselves in each and every moment of every day. The result is an almost narcissistic obsession with the view of self.
As stated in an article by Ralph Bellantoni of MyCentralJersey.com,
In a current series of paintings, Pinkman probes the significance and ramifications of the ubiquitous "selfie" phenomenon. These fugitive cell phone self-portraits betray an undercurrent of identity anxiety, and a desperate grasping for public affirmation.

"I paint a portrait of someone's self-portrait," said Pinkman. "A painting of someone carries more weight than a photograph — it adds the component of the artist, and of the many hours taken to paint it."
The exhibition runs through November 1, 2015 at the Monmouth Museum, Lincroft, NJ.